Clare Bryden founded Websites Ahoy! in 2011 with the aim of making it easy for small businesses, community groups and creative individuals to publicise themselves on the web, with good-looking and good-value websites.
We want to help build local communities and support networks, and support people and groups who are working for a more caring, sustainable and beautiful world by enabling them to communicate their work and message.
Director: Clare Bryden
Clare's background is in energy-environment consultancy, environmental research and business analysis, working in the public, commercial and charity sectors.
She has years of experience in understanding customer requirements; delivering to requirements; organisational change; and communicating analysis. She has always sought to understand and care for the environment.
She most enjoys working with other enthusiasts. Over the years, she has developed many websites for organisations where she has worked or been involved. Clare has wide experience in analysis and types of writing: policy, journalism, academic, website content, and blogging.
Ethical business
Websites Ahoy! aims to operate as sustainably and responsibly as possible.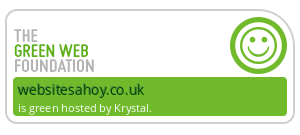 The main web hosting providers we use – Krystal and 34SP – are both committed to sustainable operations and supporting the charity sector.
We bank with a co-operative, buy our electricity and gas from an ethical supplier, and where possible buy our office supplies from sustainable sources. We mostly travel by bicycle and public transport, and drive an EV when we can't avoid using a car. We more than offset our 2019 carbon emissions via the UN Carbon offset platform, and our 2020 and 2021 emissions via Ecologi.
We aim to donate a few hours each month to help charities with their websites. This may be technical development, or support in thinking through the use of the website as part of a wider communications strategy, or one-to-one coaching. Please get in touch if you are interested in this offer.
I really, really like what you do with Websites Ahoy! The fact that you cycle and use sustainable/ethical resources, and that you donate a few hours a month for charities. So much more caring than so many others. Great stuff!

CE, Abingdon Carbon Cutters